via Warner Brothers
As a child, I was enamored with the book
The Secret Graden by Frances Hodgson Burnett.
It is the story of a young girl, Mary, who, after losing both of her parents, is sent to live with her reclusive uncle in a large English manor. Mary's early years had been spent in India, where she was tended by a cadre of servants and neglected by her busy parents. When she arrives at Misselthwaite Manor, she is essentially all alone.
via Warner Brothers
The losses Mary, experienced, as well as her loneliness and isolation, resonated with me. Most children can relate to these emotions, even if they are only experienced for brief periods of time. The huge backyard at my grandmother's house was my haven. I managed to find places to set up "house" that were hidden in the low branches of monstrous pines, in the shrubbery behind the storage shed, or in the circle carved out of a thicket of blackberries. In July, when it was berry season, this was the best spot in the whole world to be!
via Warner Brothers
There is something about secrets (at least the ones that don't hurt people) that is delicious. We savor them, rolling them around in our minds, knowing that by possessing knowledge that others do not, we are special.
Mary's garden had been locked up and abandoned long ago. When she unlocked the door and stumbled inside the ivy-covered walls, she entered another world, a world of promise and possibility. This was a world where time stood still and losses were not permitted entry. Neglect hadn't ruined the eden that was this incredible garden. In a huge leap of faith, she allowed others to enter her world, and she was taught how to plant seeds and bulbs, how to weed and prune.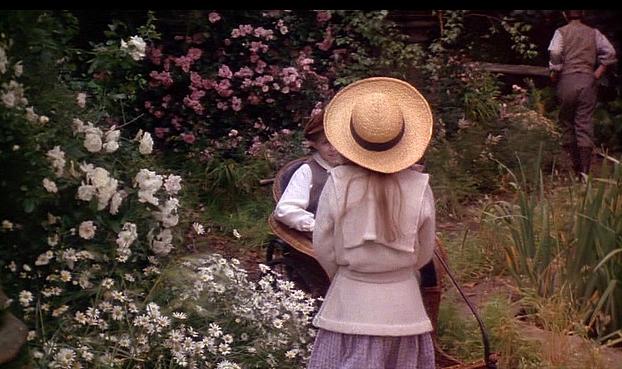 via Warner Brothers
She also learned how to trust, how to allow herself to be vulnerable, and ultimately, she learned how to cry. Letting others in on our secret can be scary. We risk exposure of the secret and of ourselves. We risk being teased for prizing the secret as something marvelous. We risk betrayal and dishonesty and rejection.
via Warner Brothers


Mary and her cousin Colin both craved attention and love. In letting Colin, and ultimately her uncle, into her life and into her heart, Mary found the connections that had been missing her entire life. Colin, through Mary's help, made his way toward healing. And Mary made hers toward wholeness.

Those early days of my youth spent playing outside in my own secret gardens brought me in touch with essential parts of myself. Things that still ring true for me are the needs for light and air, as well as a space to put my mark on. As I consider moving again, I am reminded of these necessities, as well as a need to play in the dirt on my own bit of earth, and a place nearby where I can just go out and wander about.

Wishing you peace this early spring Friday, as gardens all around are beginning to stir.
Until next time...
Anne